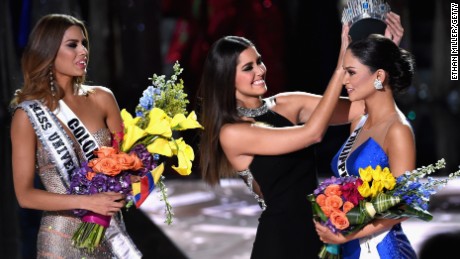 Beauty pageants are places where grace and poise are meant to rule, but a decidedly awkward moment stole the show Sunday.
Miss Universe 2015 host Steve Harvey wrongfully declared Miss Colombia the winner when she was the first runner-up. Pia Alonzo Wurtzbach, the contestant from the Philippines, had won.
A contrite Harvey was forced to fix his mistake.
"OK folks … I have to apologize," he told a confused crowd in Las Vegas.
"Let me just take control of this. This is exactly what's on the card. I will take responsibility for this. It was my mistake. It was on the card."
Moments before, he'd announced Miss Colombia Ariadna Gutierrez as the winner, and she was crowned. Waving a Colombian flag and smiling broadly, she blew kisses at the audience.
CLICK HERE to read story
source: CNN.com
Wrong Contestant Crowned At Miss Universe 2015  was originally published on praisecleveland.com