//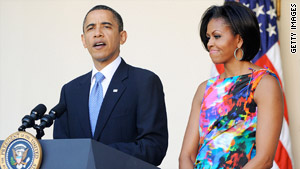 Via: CNN
President Obama on Wednesday called on Congress to work on comprehensive immigration reform this year, saying it would be the best way to fix the nation's broken immigration system.
Speaking at a Cinco de Mayo celebration at the White House, Obama again criticized the recently enacted Arizona immigration law as the wrong approach.
"The answer isn't to undermine fundamental principles that define us as a nation," Obama said to applause. He called instead for "common-sense comprehensive immigration reform."
In an apparent effort to clarify his comment last week that the political climate might be too difficult to take up immigration reform, Obama said Congress should begin work now on the issue.
"I was pleased to see a strong proposal for comprehensive reform presented in the Senate last week, and I was pleased it was based on a bipartisan framework," Obama said. "I want to begin work this year. And I want Democrats and Republicans to work with me."
Without a comprehensive federal approach, the president said, state and local authorities would continue to take "misconceived" steps at addressing the illegal immigration problem, such as the recently enacted Arizona law that allows police to ask anyone for proof of legal U.S. residency.
Critics say the law will lead to racial profiling, while supporters say it involves no racial profiling and is needed to crack down on increasing crime involving illegal immigrants.
In Arizona, the city councils of Tucson and Flagstaff have decided to file a lawsuit against the new immigration law. Members of the Phoenix Suns basketball team, meanwhile, planned to wear jerseys in Wednesday night's playoff game that say "Los Suns" as a tribute to the state's Latino community, Suns' managing partner Robert Sarver said in a statement.
Obama made a reference to the basketball team's gesture, saying that some attending the White House celebration probably wanted to watch the game between the San Antonio Spurs and "Los Suns."
"Make no mistake — our immigration system is broken" and people were right to be frustrated, including those in border states such as Arizona, Obama said.
However, "we can't start singling out people depending on who they look like or how they talk or how they dress," he said, adding he has asked for a review of the Arizona law.
Comprehensive immigration reform would include continuing government efforts to secure borders from illegal immigrants as well as steps to crack down on businesses employing illegal immigrants, Obama said.
In addition, he said, those living illegally in the United States would have to pay a penalty and any taxes they owe, learn English, "make themselves right with the law" and then start the process of gaining legal citizenship.
Getting congressional approval for a bill would be tough, he said.
"We need bipartisan support, but it can be done and it needs to be done."
Also On Praise Philly: